I'm going to break with protocol and start this by saying something nice. Dirty Dancing is a really amazing pro-choice movie. On that front, it is a gift; a magnificent, important gift. In addition, the soundtrack is a gem. 
Now, let's get to everything else…
 
1. Baby and her Extremely White Family™ are arriving at Kellerman's House O' Sex Pests. Baby's sister is upset that she didn't bring her coral shoes. Her father responds to this by saying "This is not a tragedy. A tragedy is three men stuck in a mine, or police dogs used in Birmingham." 
Nobody talks like this.
2. Baby spins around quickly a lot, smiling wistfully. I think it's meant to accentuate her perm, but it mostly makes her look like a crazy person.
3. Baby is in the weirdest dance class in history, which is, in actual fact, merely two conga lines. The blonde teacher lady shouts "Come on, ladies! God wouldn't have given you maracas if he didn't want you to shaaaaake theeeeem!" while shimmying wildly. Her name is Penny, but I'ma call her Maracas from here on out.
4. Baby goes up to "the main house to look around" and listens in on a staff meeting between Kellerman and some waiters. "Show their daughters a good time," he commands. "All the daughters. Even the dogs." 
Forcing your wait staff into unpaid sex work is fun!
5. Johnny enters with sunglasses on even though it is after dark and he is inside. "Well if it isn't the entertainment staff," Kellerman scoffs. "Dance with the daughters, teach them the mambo, the cha cha, anything they pay for. But that's it. That's where it ends. No funny business, no conversations and keep your hands off." 
UNPAID SEX WORK IS FOR WAITERS, YOU STUPID, SEXY DANCE MONKEYS.
6. In response to Robbie the Waiter saying "You think you can keep that straight, Johnny?" Johnny utters the most bizarre sentence in the history of cinema: "You just put your pickle on everybody's plate, college boy, and leave the hard stuff to me." I am so glad the internet exists, so there is a gif of that now. 
7. Baby's Mom: "Oh just look at all this leftover food. Are there still starving children in Europe?"
Baby: "Try Southeast Asia, ma."
Baby's Dad: "Robbie? Baby wants to send her leftover pot roast to Southeast Asia, so anything left, you wrap up."
These people are fucking insufferable.
8. Johnny and Maracas come onto a dance floor packed with guests and start flinging themselves around, so everyone else has to disperse to the sides. It's like those windmill assholes at hardcore shows. NO ONE LIKES YOU PEOPLE. Here's a picture of Johnny and Maracas at work:
9. Baby sees a sign that reads "STAFF QUARTERS. NO GUESTS PLEASE" so naturally, as an entitled wealthy white person, keeps going. She runs into Billy, a staff member she met at check-in, and follows him into a room where tons of skinny, bendy 1950s people are grinding on each other. There are an uncomfortable amount of close-ups on thrusting groins and winding butts. It's... a lot.
10. Johnny and Maracas arrive and all of the 'Grease' extras cheer, even though J&M are awful, awful attention whores.
The face that Johnny pulls when grinding to "Love Man" is best described as Mentally Ill Sexual Predator. This ain't the half of it:
11. Two seconds after giving Billy shit for bringing her up there, Johnny is grinding against Baby. I don't understand Johnny Castle.
12. Baby to Maracas: "I think you're a wonderful dancer."
Maracas: "Yeah, well my mother kicked me out when I was 16."
WHAT?! Overshare much, Maracas? Jesus! 
Also: NOBODY TALKS LIKE THIS.
13. While out for a stroll with Son O' Kellerman, Baby sees:
(a) her sister, running out of the woods, in a partial state of undress, chasing after Robbie (WHAT THE HELL JUST HAPPENED IN THE WOODS?!), and
(b) Maracas, shaking and crying on the floor of the staff kitchen.
Truly, Kellerman's House O' Sex Pests is a Halloween attraction with real life consequences. 
14. On learning that Maracas is pregnant by Robbie, Baby goes to ask him for abortion money. He replies "Some people count, some people don't." If Robbie is still alive today, he is definitely a Trump supporter. 
15. Baby asks her dad for $250 and just says "someone's in trouble." "It's not for anything illegal is it?" he asks. She says "No, daddy." And he says "Of course not. That was a stupid thing to ask. Forgive me. I'll have it for you before dinner."
I just looked it up and $250 in 1963 money is about $2,000 in 2018 money, but, oh sure, you'll have it before dinner, Baby.
Who are these fucking people?
16. Baby takes the money to the Room O' Grinding and hands it to Maracas. "Is this kid for real?" Maracas says.
"Yeah," replies Johnny, "It takes a real saint to ask daddy."
Man, Johnny Castle can be a real dink.
17. Maracas is getting an abortion, so Baby has to learn a dance routine to fill in for her at the Sheldrake Hotel. Naturally, this means there is a montage that's only interrupted briefly, so Johnny can say "The steps aren't enough. Feeeeeel the music." Me: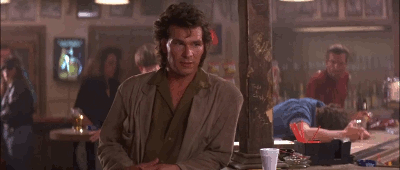 18. I really feel like Baby is not in a safe space right now.
She's alone with Johnny. He's saying "It's not on the one. It's a feeling. A heartbeat. Guh-gung," while tapping his chest. "Guh-gung. Guh-gung."
NOBODY FUCKING TALKS LIKE THIS.

19. Oh, Jesus Christ, it's another bloody montage. Literally one minute after the last one, only now Johnny Castle's shirt is off. In the wise words of Whoopi Goldberg in Ghost: Baby. You in danger, girl. 
20. Johnny and Baby are in Johnny's car. Entirely unprompted, Baby says: "You're wild."
"What?" Johnny asks.
"You're WIIIIILD!" Baby howls. 
FUCKING SCRIPT, FUCK, FUCK YOU, DIRTY DANCING.
NOBODY TALKS LIKE THIIIIIIIIIIIIIS!!!!
21. Johnny drives Baby out to the middle of nowhere to murder her. Sorry! I mean, to prance up and down on a log. 
22. It's the water lift scene. Baby is wearing a completely see-through white top. She's basically topless. How have I never noticed this before?
23. I never appreciated the sheer elegance involved in the lift until ABC did that TV version of Dirty Dancing last year and totally miscast it. Behold the difference:
Well done, Jennifer Grey and Patrick Swayze. Well done.
24. Maracas is helping Baby get ready for the Sheldrake dance routine. Baby is babbling about steps when Maracas interrupts. "I just want you to know, Baby, that I don't sleep around, no matter what Robbie told you."
Truly, Maracas is the Queen of the Wildy Off Point Overshare Tangent. Also, why is this necessary in the movie? So we'll like her? Because we can't like sexually promiscuous women? Go to hell, Dirty Dancing. Go to hell. 
25. Johnny and Baby do their routine at the Sheldrake Hotel, having done the worst make-up job in the history of the world on Baby.
Just look at the state of this:
26. Johnny pervs on Baby as she's changing in the back of his car. Dude, you literally saw her tits in the lake the other day for, like, 3 hours. Why are you peering at her white starter-bra now?
27. Baby's father forbids her to see any of the dancers ever again, after she calls him for help with Maracas' botched abortion. Naturally, she goes straight to Johnny's cabin, who has no shirt on, yet is still wearing his formal dance shoes. It feels weird to even look at. Like a visual version of how weird it feels to shower while wearing only flip flops.
28. Johnny has one poster on the wall and it's of a matador and a bull. Is that supposed to be a metaphor of some kind? *groan*, Dirty Dancing, *groan*.
29. "The reason people treat me like I'm nothin' is because I am nothin'," Johnny says.
"That's not true!" Baby wails. "You're everything!"
"You don't understand how it is," Johnny says. "Last month, I'm eating Jujubes to survive; this month, women are stuffing diamonds in my pockets."
One more time for the cheap seats! NOBODY TALKS LIKE THIS!!!
30. "Dance with me," Baby says.
"Here?" Johnny says.
Yes, here, Johnny. You were dancing on a fucking log earlier. Get it together, man.
31. Johnny is 35 years old. 
Baby is just at the end of High School. 
This is all pretty grim if you think about it.
32. Johnny and Baby dance together in a weird foreplay sexy time kind of way. They do it in front of Johnny's poster. Johnny is in the matador position, Baby is in the bull position. I fucking knew it. BECAUSE JOHNNY IS GOING TO STAB BABY WITH HIS PENIS AND THIS MOVIE IS NOT SUBTLE.
33. Baby's sister looks about 35. 
34. Maracas is lying in bed recovering from the abortion that almost killed her, but still stretching her feet out into perfect points. Because women's feet just naturally do that. 
35. "Dr. Hausman says I'm going to be fine. He says I can still have children," Maracas says.
Um. How the hell does he know THAT, Maracas? Has he got an ultrasound in that little black bag of his? An MRI maybe? I doubt he even has a friggin' speculum. FFS.
36. Baby and Johnny do more boning. After which she asks "Have you had many women?" 
Man… That is an excellent turn of phrase. Get ready fellas. I'm using it on ALL of you. While you're naked. You're gonna HATE it.
37. In order to save Johnny from being fired for stealing (THE SCHUMACHERS DID IT, YOU IDIOTS!), Baby tells Kellerman, in front of her entire family, that she was in his room all night. You think that's NOT gonna get him fired too, Baby, you nunchuck?? This bitch...
38. Johnny gets fired. Because Duh. Then he puts on an all-black, skin-tight outfit and then the greatest song in the history of the world starts playing. I'm talking about "She's Like The Wind." Obviously.
Here. Have some of this. You're welcome.
39. Johnny says his goodbyes to Baby. He cares about her so much, he's been having dreams about her father accepting him on a human level, rather than as one of the dancing scum people. To honor his depths of feeling, his final words spoken to Baby, as he drives away from Kellerman's are: "See ya." 
Do better, Johnny Castle. Do better.
40. A whole row of white people are singing. This camp is my fucking nightmare.
41. "Nobody puts Baby in the corner" happens. Okay, fine. I'll admit it. It's pretty great.
42. Remember when Kanye said "George Bush doesn't care about black people," on live TV? How it was kind of stilted and flat and excellent? That's how Johnny Castle gives his big speech to the Kellerman Dining Room O' Whites. I feel a shimmer of irony. 
43. Gosh, it's awfully good luck that Baby just happened to wear her twirliest skirt and perfectly matching knickers tonight. Me:
44. Johnny grinds around on the floor, sweating profusely, then leads his fellow dancers in the dance-fight from Pat Benatar's "Love Is A Battlefield" video. They all know the steps right off the bat, so I assume this is just how they all move around the grounds together.
45. When Johnny sings along to the "And I owe it all to you," line in "(I've Had) The Time Of My Life," he scrunches up his nose in a really aggravating way, and it has been making me feel borderline suicidal since I was a child. 
46. The end is super ambiguous, so I'll fill in the most likely conclusion. Camp is over. Baby goes off to college. Robbie gets a job in the upper echelons of government, eventually working for Richard Nixon. Johnny dies as a pauper living on Jujubes and the kindness of horrible rich women. Sorry, Johnny. 
The End.



Please reload