I love Bruce Willis so much, I once paid to watch him have his legs smashed in by Roseanne's Laurie Metcalf in a production of Misery on Broadway. Turns out though, Bruce Willis acts mostly with his forehead wrinkles, and therefore is not terribly attuned to the rigors of stage acting. Let's see how he does here! 
1. I'm just realizing that Die Hard was Bruce Willis's first foray into movie acting while he was still being David Addison in Moonlighting. I am remembering this because he's doing that stupid fucking smirk that got him through every single season of that TV show. You know what I'm talking about...
(Added bonus in this photo? He's doing Andrew McCarthy Crazy Eyes™ too!)
It's a side-note, but the Bruce Willis smirk is to movie acting what Gwen Stefani's early-No Doubt-warble was to music. It's a very visible crutch and a wildly obvious tick created in order to look competent at one's job.
Gwen and Bruce should do lunch.
2. There is a moment as Bruce Willis is exiting his flight to LA, when a flight attendant gazes at him seductively.
HOW DOES THIS FURTHER THE PLOT?
3. John McClane smokes at baggage claim in the airport. In LOS ANGELES. This movie is fucking ancient.
4. Holly calls her kids at home who are being cared for by Paulina, an older Hispanic woman. Their conversation goes like this:
Paulina: Hola, Mrs. Holly.
Holly: Did Mr. McClane call?
Paulina: No, Mrs. Holly. He no telephone.
Holly: It might be a good idea to make up the spare bedroom just in case.
Paulina: Sí, Mrs. Holly. I do that alrrrreeeeady.
Ten bucks says the guy that wrote this screenplay is a Trump supporter now.
5. Five-minute exposition scene in which John McClane sits in the front of Argyle's limo and talks gruffly about being "a New York cop" who didn't move to LA six months ago when his wife got promoted, because "there's a six-month backlog of New York scumbags I'm still trying to put behind bars. I can't just pick up and go that easy."
John McClane is a bit of a wanker.
6. Argyle plays "Christmas in Hollis" by Run DMC on the limo's cassette player, and John McClane asks: "Haven't you got any Christmas music?" Argyle's all: "This IS Christmas music!" and it feels like a fold in the space time continuum, because of how many times I have had to say "This IS a Christmas movie!" to other people about Die Hard. 
7. Why does Nakatomi Plaza have a front desk guy from 1976?
8. When John McClane tries to find Holly's name in the super-hi-tech directory, he sees that she is now using her maiden name, Gennaro. "Christ," he grumbles, visibly furious.
MARRIED WOMEN SHOULD NEVER USE THEIR OWN NAMES EVER, EVEN IN A PROFESSIONAL CAPACITY.
(The less said about the name "Bruce GFeller" the better.) 
9. Holly's very gracious boss, Mr. Takagi welcomes John into the 30th floor Christmas party. John returns the favor by suspiciously saying: "I thought you didn't have Christmas in Japan."
Mr. Takagi responds: "We're flexible. Pearl Harbor didn't work out so we brought you tape decks."
Are you fucking kidding me?
ARE YOU FUCKING KIDDING ME?! 
10. Bruce Willis has a lot of hair in this movie.
Watch in wonder as it recedes through the course of the five Die Hard movies: 
11. John McClane is a sexist dick-face. Holly offers him a place to stay at her house and tells him she misses him, and he immediately lays into her about using her maiden name in work. The two start bickering.
"I had an opportunity, I had to take it," Holly says.
"No matter the consequences," John sneers. "No matter what it did to our marriage."
Hey, John McClane! Maybe your marriage sucks because your wife and children moved to the other side of the country for a better lifestyle and a more stable future, and you stayed in New York to catch bad guys! Fuck your patriarchal bullshit! 
12. A large truck drives into the basement parking lot of Nakatomi Plaza, unimpeded by any kind of gate or barrier. Maybe do something about your shit security, Nakatomi Plaza. 1976 door guy is dead now because of you! 
13. Hans Gruber gets out of the back of the truck and walks around with the confidence and gait of a catwalk model. Look how he uses the pockets of his suit, even as he wears an overcoat! #Classy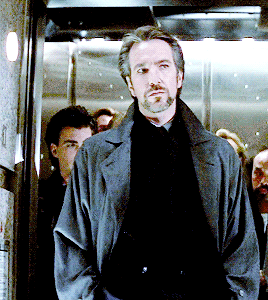 14. Terrorist tech guy locks the gates of the parking garage (IT'S ABOUT TIME SOMEBODY DID!) and shuts off the elevators. He does this while dressed like an amalgamation of literally everyone featured in the video for 1984 smash-hit "Easy Lover," by Phils, both Bailey and Collins. See?
15. The terrorists reach the 30th floor and immediately start shooting their large guns at no one in particular. Because it was made in the 1980s, Die Hard takes this unlikely opportunity to show us some naked female breasts. 
"How?!" you ask? Well, the terrorists interrupt a couple mid-coitus in an office. She runs screaming, half naked, scrambling to get her shirt on, while the man she was boning is 100% fully clothed because of course he fucking is. 
16. John McClane was in the bathroom when all this happens, so he escapes from the 30th floor and starts running up and down stairs, spying on things. For some reason, seeing Mr. Takagi get killed is somehow A LOT more shocking to John than seeing the terrorists on Floor 35 wheeling around a friggin' GUIDED MISSILE. 
17. Hans Gruber is super into dropping braggy information about himself into things he says to hostages. He recognizes suits tailored by specific designers, he mentions his "classical education" and his reading of Forbes. Dude. Hans Gruber's need to impress everyone is embarrassing. Get some therapy, Hans Gruber.
18. John McClane talks to himself a lot. He is particularly fond of the phrase "Think, dammit, think!" Your brain isn't Alexa, John McClane. This is not going to help you.
19. Oh look! Jeffrey Dahmer is here!
20. Jeffrey and John start fighting.
"You won't hurt me," Jeffrey says. "You're a policeman. You're not allowed."
"That's what my Captain keeps telling me..." John replies before breaking Jeffrey's neck.
John McClane is into The Police Brutality, you guys!
21. Despite the fact that zero terrorists know for sure there is a rogue cop running around the building, John proceeds to send Jeffrey's body down to the Hans Gruber party, like this:
John McClane just sabotaged his own secret mission. What a total bellend.
22. John McClane hitches a scary ride to the top of the building on the top of an elevator. When he climbs out of the elevator shaft, he stops to admire the photo of a topless woman someone has pinned up on an empty floor for no discernable reason. WHY ARE THERE SO MANY TITS IN THIS ACTION MOVIE.
23. Sgt. Al Powell gets sent to check out the scene at Nakatomi Plaza, after John radios in a distress call. Shortly after surviving a shootout on the roof, McClane retreats back to the elevator shaft, on the way pausing to admire the topless lady picture again. Are you fucking kidding me, Die Hard? 
24. This bit makes me very tense indeed.
25. Sgt. Al is in the building, but being totally fooled by the terrorist posing as a door guy. Probably because said terrorist closely resembles Huey Lewis, who is awesome. Look:
26. Sgt. Al is about to leave, so John McClane throws one of the terrorists he's just killed onto the hood of Al's car from a great height.
Oh, John! What conveniently magnificent aim you have! 
27. It's not "Vie-ah-con-dee-oes" in Point Break, but it's close.
28. John McClane and Sgt. Al are having a very thorough gossip over the radio about the terrorists, even though they know the terrorists can hear them.
Jeeez, passive aggressive much?
29. Sgt. Al asks John what to call him and John pauses thoughtfully before responding: "Roy."
Fucking ROY?! All the names and pseudonym options in the world and you've gotta go with ROY.
Boy, I would love to see the names John McClane came up with for online chatrooms once the internet got invented. Norman? Derek? How 'bout Barry?
30. Holy shit! I forgot Mr. Vernon from The Breakfast Club was in this as meddling, incompetent Deputy Police Chief Dwayne T. Robinson! See?
The cops proceed to do a bunch of really dumb shit against the advice of Sgt. Al. At one point, Al points out something that's happening and Dwayne takes the credit. 
Woulda been real nice to see some commentary here about racism in the work place, but, you know... 1988... 
31. Hans makes demands about releasing a number of terrorists from around the globe, so the FBI shows up. Wonderfully, this means that Mr. Vernon is now hanging out with one of the Fratelli brothers:
32. Hans and John briefly meet, yadda-yadda-yadda, then the terrorists come and John has to run over glass, yadda-yadda-yadda, bleeding feet. You know the drill. 
33. Bruce Willis has taken his shirt off in order to bandage his feet. It doesn't make me sad.
34. John tells Al: "Tell my wife that when things started to pan out for her, I should've been more supportive. I should've been more behind her. Tell her she was the best thing to ever happen to a bum like me. I want you to tell her 'John said that he was sorry.' You got that?"
Hey, look! Patriarchal men CAN figure out how to support their wives' careers! ...But only when death is imminent...
35. A reporter threatens to call the INS if Paulina doesn't let him into the McClane household to interview the children. 
HOLY SHIT! A Trump supporter really DID write this movie!
36. Blonde terrorist Karl has the opportunity to kill John, but makes a little speech about it being "personal" instead, so John gets free and ultimately hangs Karl from a chain.
You're a fuckin' eejit, Karl.
37. Roof blows up, Argyle (remember him?) stops the terrorists' getaway truck using his limo, Hans Gruber dies, John and Holly McClane prevail. There's so much action, no one does anything dumb for a really long time. 
38. John and Holly meet Al.
"Al," John says, "This is my wife, Holly. Holly Generro." 
"Holly McClane," she corrects.
WOMEN ONLY USE THEIR OWN NAMES TO GET BACK AT MEN.
39. Karl becomes the first man in history to survive a hanging, and pops out of the building, gun in the air, so Al shoots him. You could've escaped Karl! No one knew you were alive, Karl! Jesus Christ, you're really stupid, Karl! 
40. Argyle drives John and Holly home, without mentioning to anyone at all that he knocked out, but definitely did not kill, a terrorist in the parking garage. PEOPLE MIGHT DIE BECAUSE OF YOU, ARGYLE.
The End.



Please reload